Performance laminate flooring.
Flexible, easy to install and proven a thousand times – laminate flooring is the uncomplicated solution for everyone who wants it not just beautiful, but also quick. Laminate flooring is ideally suited for almost every room. With the special edition of Rock'n'go, wineo is making it even more comfortable. Because the innovative laminate-flooring solution has everything you need right there.
Enjoying life to the full, full throttle and no compromises – Rock'n'Go is the laminate flooring that simply rocks. Complete, uncomplicated and innovative. Make your life the ultimate stage. With Rock'n'Go, you've got everything you need: a complete system that joins in everywhere and excuses almost everything. It's no big deal if something goes wrong now and again. That's because Rock'n'Go is particularly noiseless, has maximum moisture resistance and is delivered in such a way that it can be installed immediately and simply. That rocks!
TECHNOLOGY THAT INSPIRES
ATTRACTIVE DECOR DIVERSITY
GOOD ADVICE ALL ROUND
RÉSISTANT À L'HUMIDITÉ
Grâce à la nouvelle technologie Aqua-Stop, Rock'n'Go reste protégé contre les liquides et l'humidité. Gonflements non perceptibles – jusqu'à quatre fois moins que les sols stratifiés courants.
FACILE D'ENTRETIEN
Grâce à l'overlay en résine mélaminée, Rock'n'Go se nettoie avec une facilité déconcertante.
POSE RAPIDE
Aucun matériel supplémentaire n'est nécessaire –
grâce à la technologie Install Ready, Rock'n'Go est
prêt à être posé immédiatement, assurant ainsi une pose rapide.
COMPATIBLE AVEC LES MILIEUX HUMIDES
Grâce à la technologie Aqua-Stop, Rock'n'Go est
également parfaitement compatible avec les milieux humides.
PARTICULIÈREMENT SILENCIEUX
Comportement acoustique extrêmement réduit grâce à la nouvelle technologie Sound Stop. Rock'n'Go est jusqu'à 40% plus silencieux que les sols stratifiés courants – son acoustique est comparable à un parquet de haute qualité.
ADAPTÉ AU CHAUFFAGE AU SOL
Rock'n'Go peut être posé sans problème sur un
chauffage au sol.
ROBUSTE
Rock'n'Go est réfractaire aux taches. Même les
meubles ou les fauteuils roulants ne laissent
aucune trace.
RÉSISTANT AUX UV
Grâce à sa résistance aux UV, Rock'n'Go ne souffre
aucun changement, même s'il est exposé aux
rayons du soleil.
ANTISTATIQUE
L'électricité statique de la surface, par exemple en
atmosphère ambiante sèche, est réduite et la
poussière n'adhère pas.
SOUND-STOP TECHNOLOGY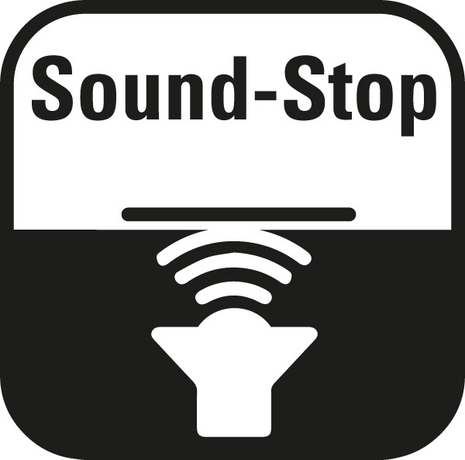 AQUA-STOP TECHNOLOGY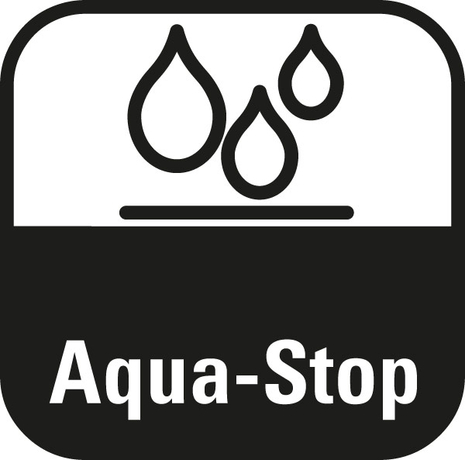 INSTALL READY TECHNOLOGY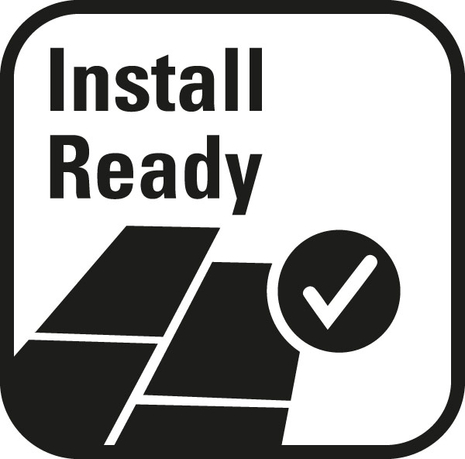 OTHER FEATURES
Abrasion resistance: AC5
Utilisation class 23: Heavy-duty use in the domestic area
Utilisation class 33: Heavy -duty use in the commercial sector
25-year guarantee (for private use)
Fold-Down locking
Authentic joint design (V4)
with selected decors
See the effects of our Aqua-Stop technology
All performance laminate flooring has been approved for use in damp areas. The Aqua-Stop technology protects against liquids and moisture. Through the use of a tablet test comparison we can show how the Aqua-Stop technology works.
Left glass container: Multivitamin tablet (pure, without a seal)
Middle glass container: Multivitamin tablet coated with Aqua-Protect edge sealing
Right glass container: Multivitamin tablet coated with the new Aqua-Stop edge sealing
The multivitamin in the left container dissolves within seconds, whereas the dissolution in the middle container is delayed by approximately 10 minutes. This is due to the Aqua-Protect sealing. The multivitamin tablet in the right container is left for many hours. Even after this long period of observation, the level of dissolution is almost non-visible.
This strongly reduced level of dissolution is a result of our Aqua-Stop edge sealing. Our new Aqua-Stop technology protects the flooring, in an optimum manner, from dampness and that's why Rock'n'Go is optimally suited for damp areas.
Experience the effects of our Sound-Stop technology
Thanks to our Sound-Stop technology Rock'n'Go is as quiet as a glued parquet floor. Listen for yourself!
All wineo Rock'n'Go laminate floors have an integrated Sound-Stop Layer which ensures that the flooring is particularly quiet.
By peeling off the protective film, the performance laminate flooring is fixed to the subsurface, thus ensuring extra quiet sound behaviour. Rock'n'Go is up to 40% quieter than conventional laminate flooring. It is also comparable to a high quality parquet installation.

See the benefits of our Install Ready technology
All wineo Rock'n'Go laminate flooring is equipped with Install Ready technology. That means, thanks to its self-adhesive Sound-Stop Layer, the floors are complete and ready to be laid. As a result you are saving both time and money. You no longer need to additionally lay an impact sound installation to the subsurface because this has been integrated into our Rock 'n' Go laminate flooring.
Here's how it works: You simply pull off the protective film from the Sound-Stop Layer. Next, the panel must be aligned with the surface before being lowered with light pressure. Thanks to its adhesive coating, the panel fixates directly to the prepared surface. Remove the protective film from the following set of panels and place them onto the installed panels at a 30° angle. Be sure that the head joint is correctly positioned before you set the panel with light pressure. Finished!
PRODUCT COMPOSITION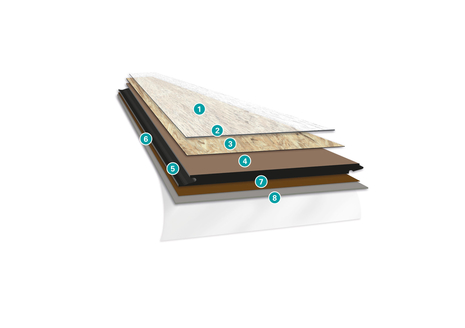 Surface structure

Different surface embossings provide an extremely high level of authenticity.

Wear layer

The particularly robust melamine resin overlay is the basis for classification into the appropriate fields of application.

Decor

The decor paper offers a diverse range of design possibilities

Core board

The highly compressed HDF core board is swell-resistant.

Profile connection

Thanks to its Fold-Down locking function, the product is very simple and quick to install.

Aqua-Stop profile seal

The innovative profile seal protects the entire sealing system from moisture and is consequently highly moisture-resistant.

Backing

The melamine resin backing serves to balance and guarantees high form stability.

Sound-Stop Layer

All products have an integrated Sound-Stop Layer including protective film. When the protective film has been removed, the former is fixed firmly to the subsurface. Consequently, both he walking and impact sound levels of the floor are dramatically reduced.